A deeper look at a leading enterprise blockchain project
A few months ago, we published the details of ten enterprise blockchain networks which are built on MultiChain and running in live production. One of these solutions, made for the pharmaceutical industry, is of particular interest – not only because of its scale, but also because it was built by SAP, the third largest enterprise software vendor in the world.
SAP's core business runs on centralized systems, so why are they exploring decentralization and blockchains? You'll find the answers below, in two parts. First, a detailed case study of the pharmaceutical project, written together with SAP, which explains the problem and why a blockchain solution was chosen. And second, an interview with Raimund Gross, the Innovation Manager who played a large role in driving SAP's work with blockchains.
We hope you enjoy the read.
Outline – SAP/MultiChain Case Study – SAP Information Collaboration Hub for Life Sciences, option for U.S. supply chain
Securing the drug supply chain saleable returns in the US: A 7-billion-dollar challenge
To fight drug counterfeiting, government agencies globally have introduced legislation requiring the unique identification of products on a unit level and in some markets verification or even full track and trace. While the track and trace process involves all supply chain stakeholders, the responsibility to perform the verification is assigned to specific participants depending on local regulation.
By November 2019 US drug wholesalers will need to verify prescription drug returns intended for resale that are received from their customers such as pharmacies and hospitals. This requirement is part of the US Drug Supply Chain Security Act (DSCSA), for "Saleable Returns Verification" using pack ID (consisting of GTIN, batch, expiration date and serial number) by November 2019. This initiative will protect returned drugs worth an estimated USD 7 billion per year in the US alone.
The DSCSA requirements will extend to a "fully interoperable system to support tracking and tracing along the entire supply chain" by 2023 and so a solution must be found which will support these future requirements. This means recording over 1.5bn product packs every year and handling 100,000+ verification transactions daily, without performance degradation. In addition, the proposed solution should minimize the number of different integrations and counterparties for each wholesaler and pharmaceutical company to interface with.
In theory verification and tracking could be performed by direct querying between the supply chain participants. However, this would introduce fragility since each company would rely on every other to answer queries in real-time. In addition, it is not viable to use a regular centralized database since there is no central party in the US to manage that database. This situation in the US contrasts with the EU, which established the European Medicines Verification Organization (EMVO) to act as the central organization for aggregating product pack data and enabling verification at the point of dispensing, as required by the EU FMD (Falsified Medicines Directive).
A consortium lead decentralized ledger solution from SAP
To meet this challenge, SAP has partnered with leading pharmaceutical companies including Merck, GlaxoSmithKline, AmerisourceBergen and Boehringer Ingelheim to create a blockchain-based decentralized ledger solution.
To create, manage and communicate traceability data, SAP offers a solution portfolio consisting of SAP Advanced Track and Trace for Pharmaceuticals and SAP Information Collaboration Hub for Life Sciences. The solution, designed to support saleable returns verification as described above, uses those products and in addition leverages a blockchain to provide data distribution with an additional layer of security and integrity checking.
The pharmaceutical manufacturer creates serialization data, a product ID (GTIN), batch or lot-ID including expiration date and a randomized unique identifier for each product unit package. This data is printed on the package in a barcode and human readable format. The hash of the barcode string for every serialized unit is then created and written on the blockchain.
Every person along the supply chain including a patient and a healthcare professional at a pharmacy or at a hospital can easily scan the barcode on the package before the product is sold or administered. A mobile application decodes the barcode, creates a hash of the barcode contents and verifies the existence of that exact hash on the blockchain via the organization's node or the node of a service provider. In the particular case of saleable returns verification, a warehouse worker at a US wholesaler can verify a returned saleable product, thus complying with US regulations.
"Blockchain is driving a new breed of enterprise applications that could drastically improve cooperation for wholesale distribution," said Jeffery Denton, senior director, Global Secure Supply Chain, AmerisourceBergen Corporation. "The blockchain-based solution from SAP provides the best opportunity to fully satisfy our need to be interoperable with our trading partners and their solutions as well as to remain compliant with the U.S. DSCSA."
SAP has made this solution available for use by the entire pharmaceutical industry and is in discussions with additional leading pharmaceutical companies who intend to join shortly.
"This blockchain product supports the industry's need for an immutable and shared ledger, avoiding many complex integrations," said Dr. Oliver Nuernberg, chief product owner, SAP for Life Sciences solution portfolio, SAP SE. "With this product we are offering a scalable and secure solution to pharmaceutical manufacturers and U.S. wholesalers to comply with the upcoming regulatory requirements for verification."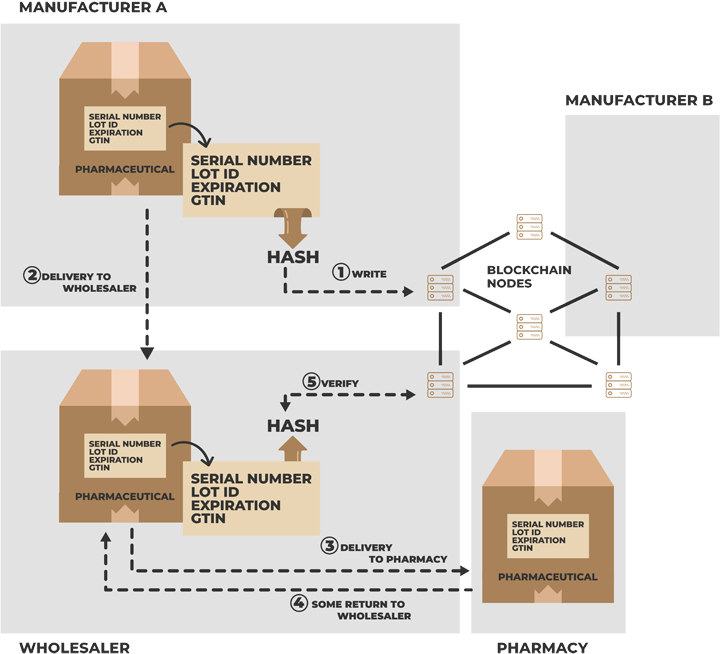 SAP Information Collaboration Hub for Life Sciences has now launched based on MultiChain
To deliver SAP Information Collaboration Hub for Life Sciences, option for U.S. supply chain, SAP used MultiChain, the lightweight and scalable blockchain platform developed by Coin Sciences. MultiChain comfortably supports the required throughput of 116 transactions per second and maintains stable performance while adding up to 5 GB of data per day. The solution underwent multiple stages of testing and deployment while being built and is now live with initial consortium members with others in the process of onboarding.
"MultiChain is proud to be supporting the SAP Advanced Track and Trace for Pharmaceuticals initiative with our mature platform for building blockchain applications." said Dr. Gideon Greenspan, Founder and CEO of MultiChain. "This SAP solution leverages many of the advantages of blockchains in terms of security and decentralization, while enjoying MultiChain's stability, customizability and scalability."
"At SAP we are extending business solutions with MultiChain blockchain functionality via our SAP Cloud Platform offering." said Torsten Zube, Head of the SAP Innovation Center Network. Furthermore, "We strategically decided that MultiChain should be part of our offering due to its proven, scalable and mature distributed ledger technology addressing enterprise needs. Functionality such as Smart Filters and off-chain data is what we see as particularly relevant for enterprise scenarios going forward."
Interview with Raimund Gross, Innovation Manager at SAP
1. Could you tell me about SAP's general perspective on how blockchain technology can contribute to the world of enterprise software?
The core idea of blockchain is collaboration based on shared data ownership, governance and operations. The major difference from centralized system architectures is that peers, collaborating in a network, can continue using their own systems and technology stack without the need to integrate them in the classical way. Instead, blockchain provides a shared data layer that allows these systems to interoperate on top and acts as the single truth.
As a result, the network has no single authority, which owns the data or controls the systems. The decentralization of the ledger means a decentralization of power. No single participant can decide to prohibit access or shut-down the infrastructure. This reduces control of intermediaries in many multi-party scenarios. Nevertheless, you would want to ensure transactional consistency across companies.
In that I see ERP systems relevant for orchestrating company internal processes and transactions. This provides structure which is an essential foundation for the provisioning and maintenance of accurate business data. And blockchain helps to ensure that consistency can be maintained across multiple participants.
2. Traditionally SAP has made its money from centralized systems, whether they are hosted on premise or in the cloud. Does this create a tension with blockchains, which are designed for decentralization?
We help our customers excel in their day-to-day tactics and develop strategies that will push their business forward. So far, these strategies and tactics are mostly reliant on central ledger technology. With blockchain – the emergence of distributed ledger technology – we see a future where we can use our strength in optimizing for central ledgers in a world that is more federated and based on distributed ledgers. Our experience can apply to optimizing processes for single companies as well as in an inter-company scenario.
Therefore, Blockchain is an opportunity to extend our existing market and scenario coverage. We believe that the basic rules of business, as well as our deep domain knowledge, will persist over technological changes that occur. Thus, we can benefit and help to develop new technologies because we can apply our strength to new areas.
3. What is the SAP Cloud Platform Blockchain Service and why would someone use it?
SAP's blockchain offering follows our strategy to drive the Intelligent Enterprise by providing a cloud-based environment for blockchain services and full-fledged blockchain-based solutions.
We enable customers, partners, and developers to use blockchain immediately – in existing solutions or new applications. All that without the need to understand blockchain mechanics in-detail. You can say we make it easy to consume and integrate.
We infuse SAP applications with blockchain technology wherever it creates added value and we build new solutions to solve emerging business challenges. For example, we help our customers comply with US regulations for meds and fight counterfeit drugs with our blockchain-powered product Information Collaboration Hub for Life Sciences.
We also enable new network-based business models by bringing together participants in a co-innovation eco-system to jointly work on other cross-company scenarios, where blockchain can be a real solution to emerging challenges.
4. In terms of blockchain use cases, is SAP more focused on tokens (which represent ownership of something that can be transferred over the blockchain) or data (where the blockchain's primary purpose is to record information for later reference)?
Our perspective is typically looking at technology from the perspective of the business problem at hand. And especially in the early days of realizing projects based on blockchain we promoted reduced complexity and lightweight technical implementation. So, our cases started with recording data to notarize information and prove data ownership.
Today we see more cases that require tokens as part of the technical realization. Just take mass balancing systems in supply chains to ensure tracing of sustainable ingredients when processing large quantities of raw products. Hence, we are exploring tokenization projects, too.
5. Let's talk about the subject of our case study, the application built by SAP for verifying the returns of saleable drugs in the US. What motivated the choice to use a blockchain rather than another technology for this?
We clearly came from a business problem looking for a technical solution. The characteristics of the problem were:
Multiple data sources and multiple participants that would write information
Requirement to have tamper-proof data after it was initially written
Decentralization across multiple companies and different roles
No single party that would be able to provide the required service – none existing and no perspective to establish one
The need for distributed reads of previously stored information by a large group of different participants
Those points were a trigger to explore whether blockchain can meet those requirements. And it turned out to be just the right solution, so we moved on implementing it that way.
6. Why did SAP choose to build this application on MultiChain rather than a different blockchain platform?
To get used with a technology we wanted to minimize risk and uncertainty in our use-cases as much as we could. In these scenarios we focused on ease-of-consumption from the developer's perspective and technology robustness to provide the required functionality.
For instance, with MultiChain we can easily validate the data string or hash that is published to blockchain. It is easily accessible and does not need execution of any on-chain application logic to find and verify the information. This significantly reduces complexity. With MultiChain's robustness we can focus on the blockchain application challenges instead of handling technology challenges.
That said, we try to be technology-agnostic and use the best solution for the problem at hand. While other protocols might offer different advantages for specific scenarios, MultiChain turns out to be a good solution in many cases we see.
7. Apart from supply chain traceability, are blockchains relevant for any other parts of the SAP suite of enterprise applications?
Based on my experience blockchain is not specific to a single industry or line of business. Whenever you have cross-company processes that need shared data governance you should pay attention and evaluate blockchain's fit – specifically in situations with multiple participants from different entities and a decentralized architecture.
While blockchain can reduce the need for intermediaries, we observe that many enterprises embrace the technology and explore either how blockchain can support their business model or how they can adapt their business model according to the benefits of the technology. The latter results in new solutions that would not have been possible building in a centralized way.
8. If you could improve one thing about today's enterprise blockchain platforms (MultiChain included), what would it be?
There is a fundamental requirement for enterprise usage of software and applications. And this is interoperability. At customers there is very rarely a single application or a single technology stack in use. So, connectivity and data flow between those components are paramount.
In blockchain, we are seeing multiple stacks and technologies being developed in parallel. While this is not uncommon in the lifecycle of emerging technologies it can lead to interoperability problems once a certain maturity is reached and networks are established independently from each other. This is a huge challenge we are seeing in the overall ecosystem.
Thank you!
Please post any comments on LinkedIn.